Picture this—you're at work and you get a phone call: your kids forgot the key to the house when they left for school and now they're locked out of the house. Or, maybe your housekeeper is there but you're stuck in traffic.
For many people, the solution to this is to keep a hidden key under the mat, in a fake rock, or somewhere out of sight.
But is this really the best solution?
The problem with traditional house keys
Most of us have at least one set of keys. When you think about it, though, they're actually pretty inconvenient and even pose a safety risk. Take a look at some of the downsides of keys:
They're easy to lose. If you've ever lost your keys, you're not alone. In fact, one survey found 28% of people lose their house keys at least once a week.
You'll need to make copies. Everyone in your family needs a key, but if you ever get a pet sitter, housekeeper, or someone to water your plants while you're out of town, you'll need to make spares. The more copies of keys out there, the higher the risk of keys being misplaced or getting into the wrong hands.



Have lots of extra keys lying around? Talk about a security risk.

They're hard to hide. Plenty of people stash their spare keys outside, but finding a spot that's easy to find for you or your visitors also means that it's easy to find for burglars.
They require an extra step. Have you ever left the house in a rush only to ask yourself, "Did I really lock the front door?" Not knowing can leave you worried and stressed.
Smart locks are a smart (and safer) alternative
Bottom line? Keys are outdated. Luckily, there's a better alternative: smart locks.
A smart lock replaces existing deadbolt and lock to give you greater security and increased functionality.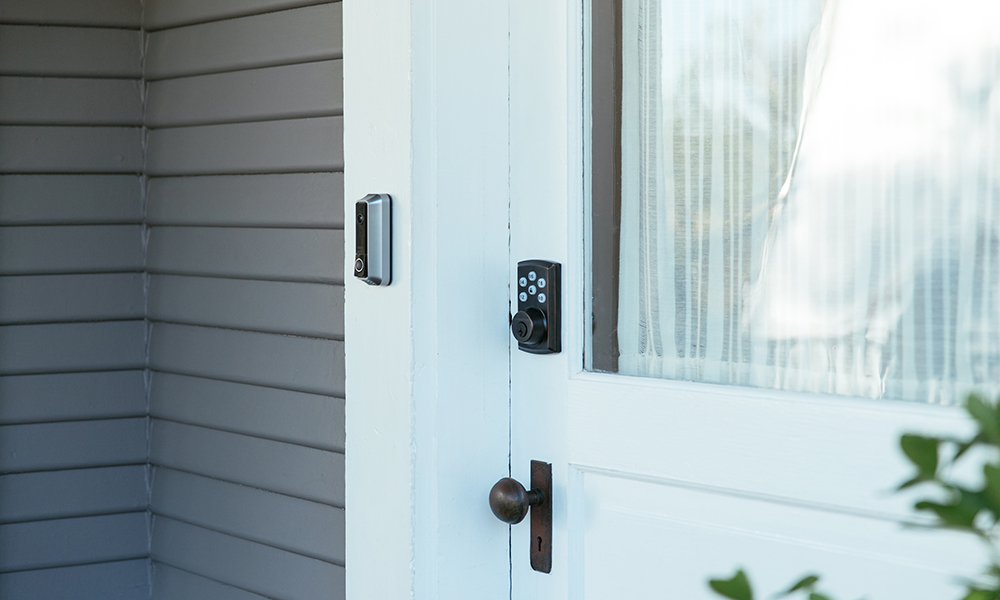 When a smart lock is integrated with a smart home system, you take your front door security to whole new level.
The main benefit of a smart lock is the ability to lock and unlock your door from your smartphone no matter where you are. Whether you need to let someone into your home or you want to make sure you locked your door, you can do it all from your smart phone app. It's the ultimate in convenience and peace of mind.
There are other benefits to smart locks as well:
Multiple access codes. You can make an access code for everyone in your family, so they each have their own. These codes replace keys and allow secure entry to your home. Not only that, but you can create codes for delivery people, guests, house sitters, and anyone who needs to access your house. You can also disable codes as needed. Plus, you can receive a notification on your phone when someone uses their access code, letting you know who's entering your house and at what time.



Don't worry about the safety of your packages by installing a smart lock.

Better security. Smart locks eliminate the need for spare keys, so you don't have to worry about your keys getting lost or in the wrong hands. You can now ditch that fake rock.
One-touch leaving. If you're like many other people, the morning rush can be a real struggle. Juggling kids, backpacks, purses, briefcases and everything else in the morning while fiddling to find your keys so you can lock the door is not exactly convenient. With a smart lock, you can press the lock button on the smart lock and go. Not only will it lock your door, but it can also automatically arm your security system, turn off lights, and adjust your thermostat. It's that simple.
Custom rules and notifications. You can set rules to have your door lock automatically when you leave, lock behind you after you come home, or enable notifications that let you know when someone unlocks your front door.
Integration with your smart home. If you have a fully integrated smart home, you can lock your door with just your voice using smart speakers like the Google Home or Amazon Echo. This is especially convenient when you're settling down for the night and can't remember if you locked the door. "Alexa, lock the front door."
Technology has made life easier in so many ways, including how you access your house. If you're still relying on keys to unlock and lock your doors when you're coming and going, it's time to ditch the keys for a more modern, convenient, and safer smart lock.
Ready to increase the security and functionality of your front door? Give us a call at 800.646.1469 for a free quote on smart home system that includes a smart lock.