How to verify
an authorized
Vivint Smart HomeTM representative
Verify a representative
Checking badge id...
Please call 866.870.2268 to report any unauthorized personnel claiming to be associated with Vivint.
Authorized representatives will have the following:
An authorized uniform
An ID badge
An official ID number
In-Home Consultation
Smart Home Pros, Inc. is the only dealer authorized to sell Vivint products and services through direct-to-home channels.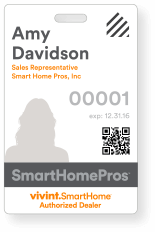 Professional Installation
A Smart Home Pro is a trained professional who will come to your home to install your system or perform maintenance.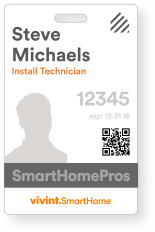 Vivint Inc.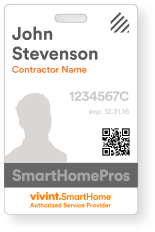 Authorized Service Provider
Unauthorized personnel will claim false statements such as:
Sometimes our customers are misled by representatives from other companies or manufacturers and unknowingly enter into another contract while they are still under contract with Vivint, Inc.
False:
"Vivint has gone out of business."
Truth:
We've been in business for 20 years and have over 1.7 million customers and counting.
False:
"Vivint has outdated products."
Truth:
We continue to innovate and provide award-winning products and services.
False:
"Vivint has left your area."
Truth:
Vivint Smart Home™ operates across all of North America and delivers award-winning services.
False:
"We are affiliated with Vivint and are here to upgrade your equipment"
Truth:
We will never send someone from a manufacturer to inspect or upgrade your system, unless it is a Smart Home Pro.