Home security systems have come a long way over the years. Big, clunky control panels, glaringly obvious motion detectors in each room, and a room full of equipment and wires are so 20 years ago.
You can still find these throwback systems, but there's a better, smarter alternative to your dad's security system.
A Vivint Smart Home system goes beyond basic alarm systems to bring home security and home automation together. The result is a fully customizable, modern smart home security system that makes home security easier, more convenient, and more secure.
Here's how:
Devices that make a difference
A Vivint Smart Home system boasts devices that are designed to complement your home's décor. These smart devices provide a level of control and functionality that older systems don't have.
Take a look at some of the devices you can expect in a modern smart home:
Touchscreen control panels
With outdated home security systems, control panels have to be installed near your front door, and you can only arm or disarm your system from that panel using clumsy buttons.
The Vivint Smart Hub is the modern evolution of a control panel, featuring a slim profile with an HD touch display. The Smart Hub is exactly that—the hub of your smart home system, and it goes beyond turning on and off your alarm system.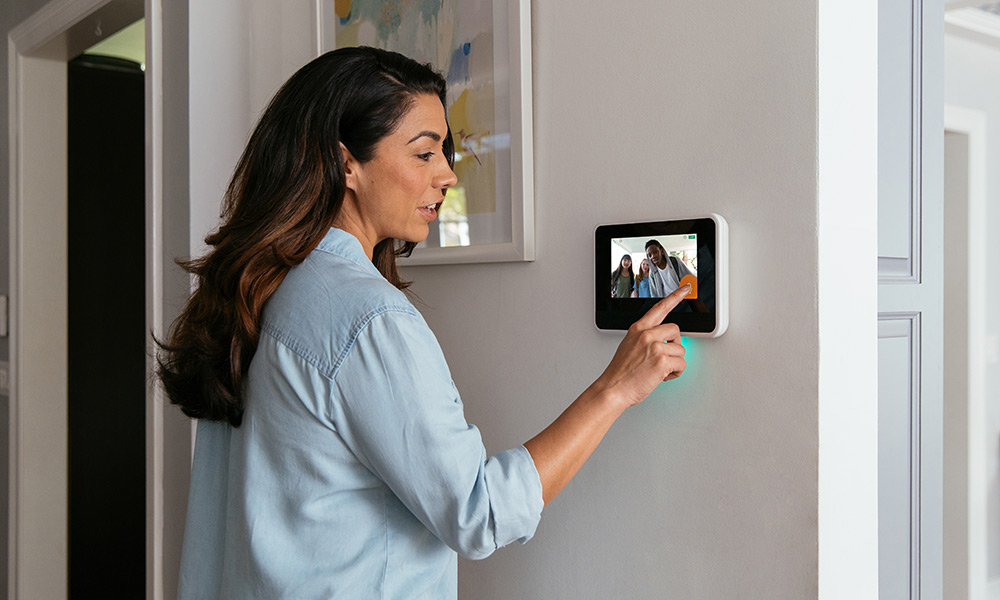 From your smart hub, you can control every aspect of your home's security system—view live or recorded video feeds from connected cameras, see and speak to people at your door, arm your system, and lock your doors.
Smart home app to control your security system from anywhere
You don't have to always be at home to know if your system is secure though. The Vivint Smart Home app keeps you connected to your home no matter where you are.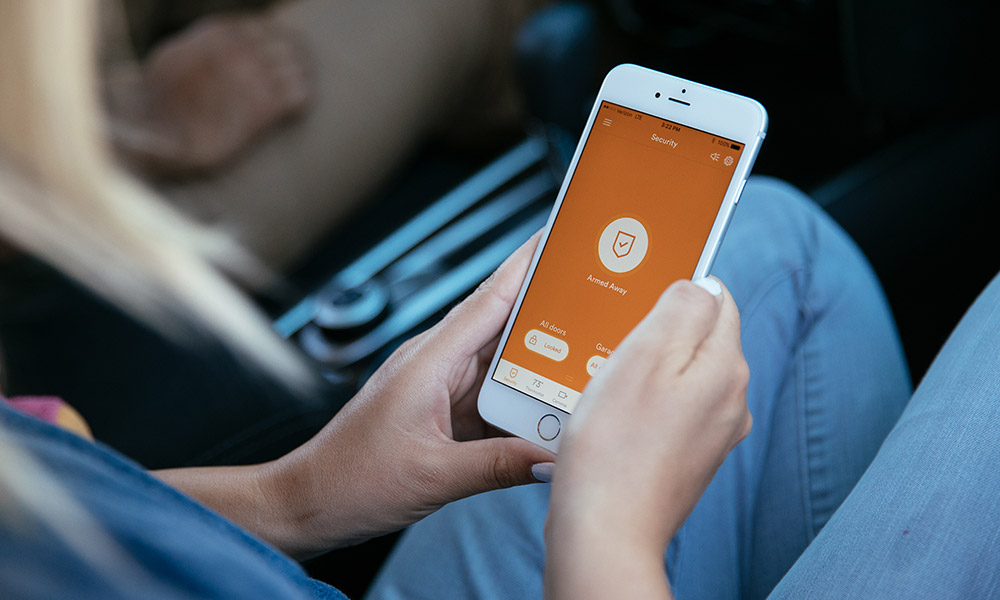 Custom notifications and alerts let you know when your alarm is triggered, when someone's at your door, or when your indoor or outdoor cameras sense motion. With the app, controlling your home is mobile and convenient, and you always know what's happening.
Surveillance cameras that give you a clear look
Your dad's home security system probably didn't have surveillance cameras. But a Vivint Smart Home system lets you see firsthand what's happening in and around your home with indoor cameras, outdoor cameras, and even a video doorbell camera.
Video doorbell: The Vivint Doorbell Camera is one of our customers' favorite home security features, providing a clear view of your front porch day or night. View live or recorded video feeds to see who's coming and going, receive notifications before someone even rings your doorbell, and speak to visitors through the doorbell camera via your smart home app.
Indoor camera: The Vivint Ping Camera is an HD motion-activated indoor camera that lets you see what's happening in your home. It's ideal for parents with children and pet owners who want to keep an eye on their loved ones when they're away.
Outdoor camera: The perimeter of your home is your first line of defense and an outdoor camera gives you the view of your property you need day or night.
You can log in to your smart home app and watch your video feeds from your smartphone, and even talk to people at the door from your phone. If you're away from your phone, no problem—just view the recorded clips at your convenience.
24/7 monitoring while you're away
What good is a security system if it's not being monitored? Round-the-clock home security monitoring is included with every Vivint Smart Home system to keep an eye on your home when you can't.
What's more, in the event of an emergency, our professional monitoring center will confirm the situation with you and contact emergency personnel if needed.
Break-ins aren't the only threat to your home. Fires and carbon monoxide poisoning pose a real danger to families, with 3 out of 5 home fire deaths occurring in homes without a working smoke detector.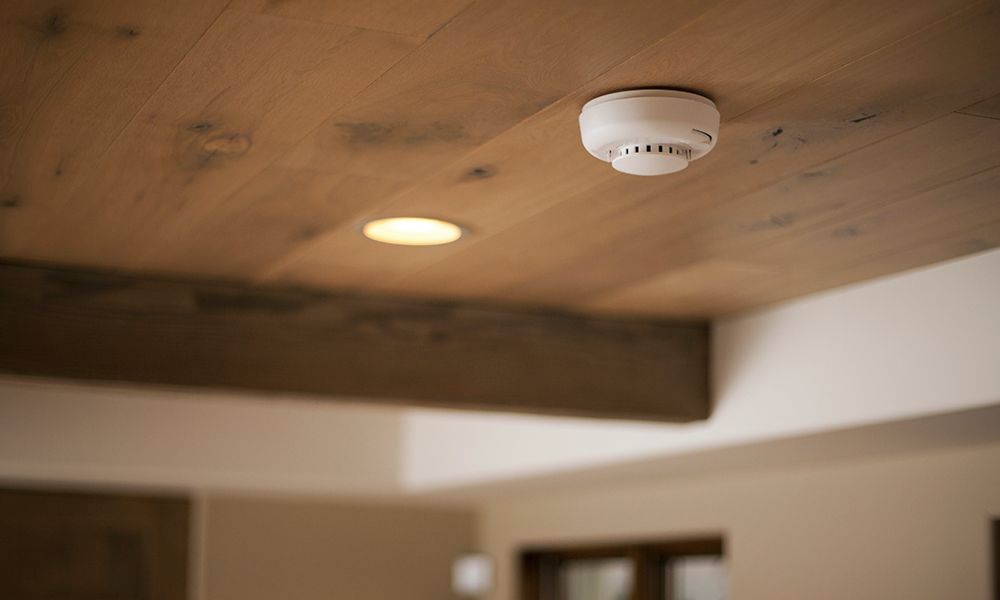 Smoke alarms and carbon monoxide detectors are integrated with your smart security system and monitored around the clock. When alarms are triggered, emergency personnel can be dispatched, sometimes before you even know there's an emergency. This has literally saved lives.
Security + smart home automation = ultimate convenience and control
Vivint's home security features keep your home safe and watched over, but that's just the beginning. When you pair home security with smart home automation, you get a smarter home that's easier to manage and control than you ever imagined.
Some of the must-have smart home automation features for your home include:
Smart locks
Imagine that instead of making copies of your keys to hide under the doormat, you simply create a unique access code on your smartphone for people who need to access your home. With smart locks, you can. You can also remotely lock and unlock your doors from your smartphone, set custom controls, and get notifications of who's coming and going.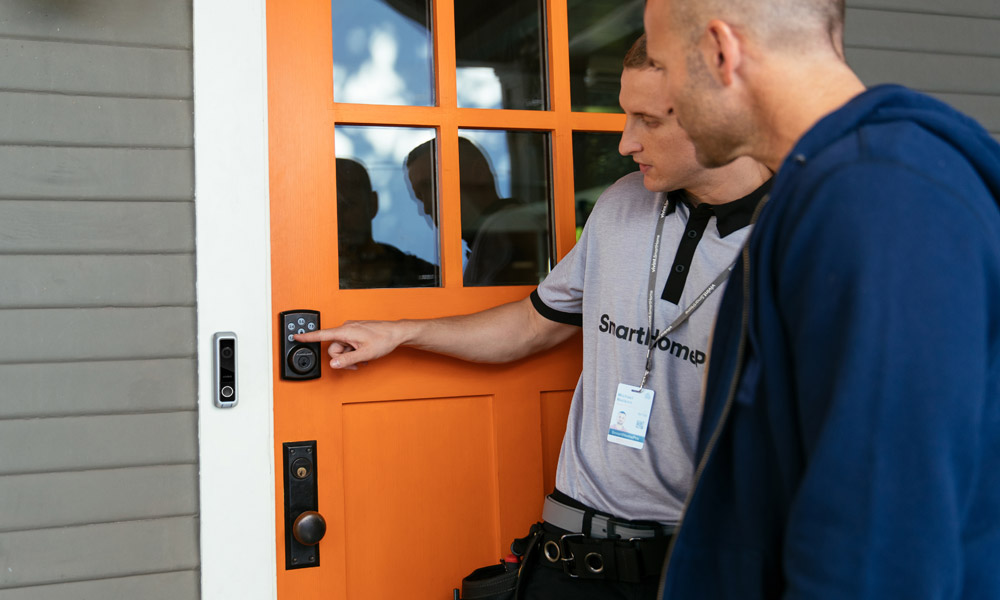 And when you're in a hurry to the leave the home, the one-touch locking feature secures your door, arms your system, and turns off the lights. How's that for convenience?
Remote garage control
Leaving your garage door open makes your home vulnerable to unwanted visitors. With remote garage control, you don't need to rush back home to make sure you closed your garage door. The system will notify you on your phone when your garage door has been left open, and you can close your garage door right from your smart home app.
Energy-saving features
Imagine a home that actually saved you money. With energy-saving smart home features like smart thermostats and smart lighting, you can conserve energy and potentially lower your energy bill.
The Vivint Element Thermostat integrates with your smart home system to help make your home comfortable when you're there and save energy when you're not. No more sacrificing comfort to save a few dollars. The Element learns your preferred temperature and automatically adjusts the temperature for you.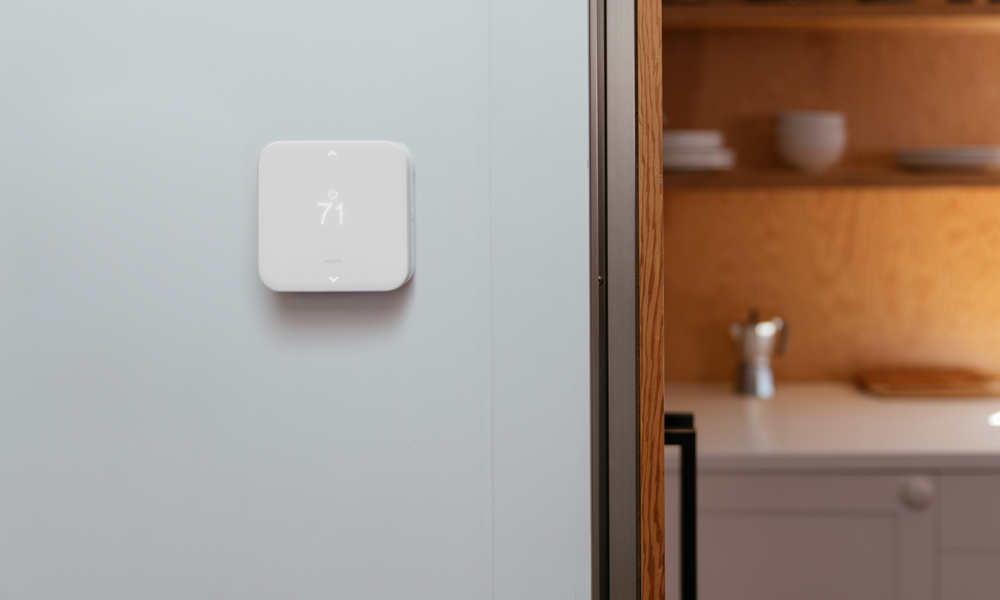 With Philips Hue smart lighting integrated into your smart home, you can control your lighting from your phone or with the power of your voice. Forgot to turn the lights off? No big deal. Just turn them off from your phone, or say, "OK, Google. Turn off my lights." You can also set custom rules to turn your lights on or off at certain times, giving the appearance that you're home while you're traveling.
Voice control
Need to lock your doors or arm your security system? Just tell Google or Alexa and they'll do it for you. Google Home and Amazon Echo integrate with Vivint Smart Home systems to give you convenient voice control—arm your security system, adjust your thermostat, turn off your lights, and lock your door with your voice. You'll never know how you lived without it.
As you can see, security systems today are so much more than an alarm system and a clunky control panel.
A Vivint Smart Home system combines security with the convenience of home automation for a truly smart home security system. But most importantly, it gives you the peace of mind that comes with being connected to your home, wherever you are, and knowing that your home and family are protected.
Ready to protect your home with a modern security system?
Give us a call at 800.646.1469 for a free home security consultation where our knowledgeable Smart Home Pros will help you customize a system to your needs.