"Hey, Alexa..."
If you have an Amazon Echo, you probably start plenty of sentences like this every day. Whether you want to find out the weekend weather forecast or create a to-do list, there's no doubt about it—Amazon Echo has made life easier for millions of people.
One of the benefits of a smart speaker like the Echo is the ability to adjust your home's temperature with a simple voice command. But if you want to "tell" your thermostat what to do, it has to be compatible with Alexa.
Which thermostat works with Alexa?
Vivint Element™ Thermostat
Nest Learning Thermostat®
Ecobee-4
Honeywell Lyric Thermostat
Sensi WiFi Programmable Thermostat
Alexa is compatible with multiple thermostats, which means you have options and can choose one that best fits your needs. While each includes voice control, some thermostats stand out above the rest for the added features they provide.
Here are two standout thermostats that work with Alexa:
Vivint Element Thermostat
What's so great about the Vivint Element Thermostat? Well, plenty. Touch display illuminates on approach to show target and current temperatures, and Element tracks humidity levels to help optimize indoor air quality. It even provides a layer of safety: Element limits the spread of flames by shutting off your home's HVAC system during a fire.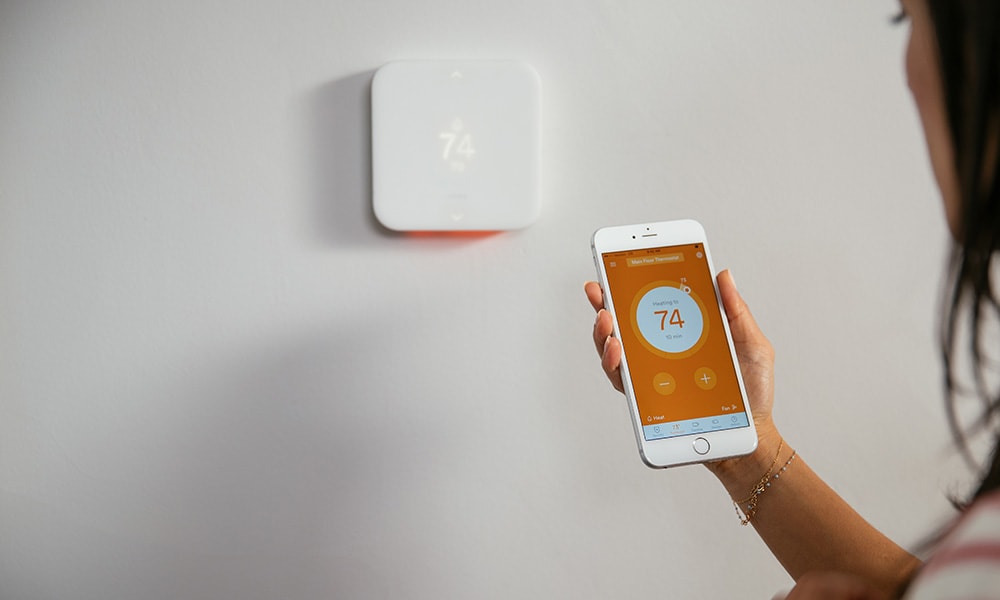 You can easily adjust temperature settings with voice commands in three simple formats. For example, "Alexa:
Set my heat to 74 degrees.
Set my AC to 72 degrees.
Turn the heat up 2 degrees.
It's that easy. And if you're going to have a thermostat on the wall, it might as well look good. Element is no exception. Its sleek, minimal design blends perfectly with your home's interior.
More than just good looks and voice-enabled temperature control, Element keeps you comfortable while saving you money, too. As part of a Vivint Smart Home system, Element works in tandem with Sky, our Smart Home Assistant. It auto-adjusts Element to your preferences when you're home and conserves energy when you're not.
Together, Element and Sky can provide significant savings: Up to 12 percent on energy spend with an annual savings of up to $146 per year.
Nest Learning Thermostat
The Nest Learning Thermostat is a top contender in the world of smart thermostats—it's why Vivint integrates Nest along with Amazon Echo. The combination of these two devices offers yet another great solution for voice-controlled temperature and, as part of a larger, comprehensive Vivint system, voice control over all aspects of your smart home.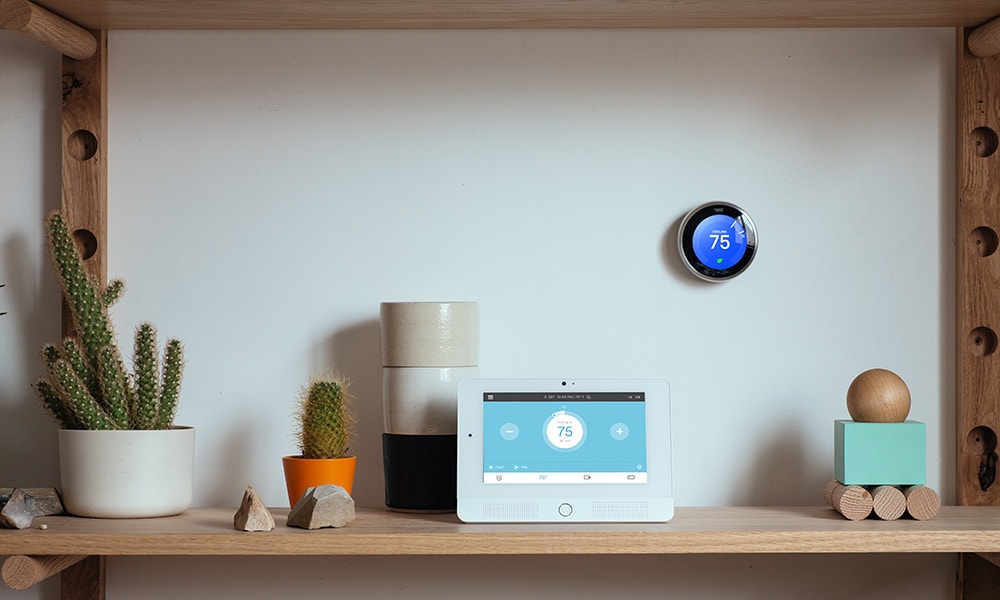 Here are some other great reasons to consider Nest Thermostat:
It looks good. With its slim profile and high-resolution screen, Nest is easy to read while complementing the interior of your home.
Safety is locked into Nest, as it also responds in the event of a fire, shutting off the flow of air in your home's HVAC to minimize the spread of flames.
Nest's touch display illuminates on approach to display time or temperature.
Like Element, integrating Nest with your Echo pads your bank account-and conserves valuable resources. Nest also works with Sky, leveraging your in-home sensors to more intelligently manage the temperature in your home. By automatically adjusting your temperature when you're home or away, you can conserve energy and save money, just as with Element.
Your smart thermostat and the bigger picture
Why stop with a smart thermostat and speaker? Integrating the two into a Vivint system just makes sense. It's your ticket to syncing with Sky and benefiting from the cost-savings and conservation the Smart Assistant offers.
There's also added ease, convenience, and control. You can talk to Alexa when you're in the house to manage temperature. But as part of a bigger system, you can control your smart devices, including your thermostat, through SkyControl Panel, the central hub of your entire smart home.
The Vivint Smart Home app provides the convenience of control on the go-manage your thermostat and smart home settings using your mobile device from anywhere.
Give us a call to learn how to get started with the energy savings that can come with a comprehensive smart home.