Technology is moving at a rapid and exciting pace in virtually every aspect of our lives, and the home is no exception.
Homes are getting smarter and more intuitive every year, with new devices and technologies designed to make your home smarter, safer, and more convenient.
2019 smart home trends

When it comes to upcoming smart home technologies, 2019 will not disappoint. Take a look at some of the latest smart home trends on the horizon for the new year.
Increased IoT technology
The Internet of Things (or IoT), which is a connected network of devices and appliances, has been very influential in the evolution and development of smart home technology. The Internet of Things will only continue to grow in 2019.
Keep your eye out for more connected devices than ever, including smart refrigerators, washing machines and dryers, and even crockpots. The home is a prime location for developing products that ostensibly improve the lives of homeowners.
This smart fridge is a great example:
Would you want a smart fridge that smiles at you, plays music and shows you photos? Because that's now an option. #CES #CES2019 pic.twitter.com/0mcbrZqMrt

— WIRED (@WIRED) January 9, 2019
But the question that should be asked with this explosion of IoT technology in the home is: just because you can, should you?
What a smart home should do
At Vivint Smart Home, we believe smart home technology should serve a meaningful purpose to improve the lives of the people inside the home. Connecting a device to the Internet may technically qualify it as smart, but a truly smart device should:
communicate wirelessly.
collect and learn from data without additional user input.
be compatible with the Internet of Things and other smart products.
solve more 'problems' than its non-smart counterparts.
So while connecting an appliance to the Internet may sound like the next step forward, in reality it may be more gimmick than gadget.
A truly smart home, like the systems offered by Vivint Smart Home, integrate multiple smart devices so everything works together seamlessly and can be controlled from a single interface, anytime, anywhere.
More gadgets for babies and pets
Another growing smart home trend revolves around the smallest members of a household—babies and pets.
2019 will bring an influx of smart devices that put new parents at ease, such as devices that track a baby's breathing and advanced baby monitors.
Check out this example:
This baby monitor doesn't just watch your baby, it swaddles them too. #CES2019 #DTCES https://t.co/FYsXQQ5TS6

— Digital Trends (@DigitalTrends) January 8, 2019
You can also expect to see more smart devices for pets, including self-cleaning toilets and cameras, in 2019.
This technology is not only smart, but can provide peace of mind to parents and pet owners.
We had this exact thought in mind when we developed the Vivint Ping Camera, an indoor surveillance camera that let you view live and recorded HD video, hear or speak to your child via two-way talk, and even get notifications when movement is detected. It's perfect for parents of children and pets.
More voice control integration
Voice control is a major part of the smart home experience already, with smart speakers making it easy to control many different aspects of your home. About 39 million people in the US own a voice-activated speaker like Google Home or Amazon Echo already.
2019 will continue to bring even more voice control to the home with features that allow you to control other smart devices with simple voice commands. And it doesn't stop at the home. The next stop? Your car.
Voice control is incredibly useful, which is why Vivint Smart Home integrates with Google Assistant and Alexa to allow you to turn lights on and off, lock your door, arm your security system, and adjust the thermostat with the power of your voice.
Smarter bathrooms
Bathrooms are the most frequently remodeled rooms for homeowners. Despite that, it's somewhat surprising that we haven't seen a lot of smart home technologies in bathrooms (especially when 75% of Americans take their smartphones to the bathroom with them).
That's going to change in 2019. You can expect to see smart toilets, customized bidets, motion-activated lights, and voice-activated shower controls.
This smart toilet is a perfect example:
This $7,000 smart toilet has built-in speakers, mood lighting and Amazon #Alexa #ces #ces2019 #tech #technology #toilet #innovation #smarttoilet #smarthome #amazonalexa ⠀
#homeautomation #home #design #iot #interiordesign #internetofthings #device #ai pic.twitter.com/jqvBnxfF10

— Evan Kirstel at #NRF2019 w @ATTbusiness (@evankirstel) January 10, 2019
Whether smart bathrooms are the next big thing or a passing fad largely depends on the degree to which it enhances the home experience in a meaningful way.
Growth of Artificial Intelligence
Another 2019 smart home trend will revolve around Artificial Intelligence, or AI. AI is much more than robots; it's the way smart devices actually learn to become more useful to you the more you use them. It's truly what puts the smart in smart devices.
A prime example of AI at work is the Vivint Element Thermostat, a smart thermostat that integrates with a smart home system to use AI to learn your temperature preferences and adjusts the temperature based on your location and activity.
So if you're in a rush to get to work, you don't have to worry about leaving the thermostat up too high. The system can detect your occupancy pattern and lower the temperature to save you money.
Decor-friendly gadgets
If you have a certain style of decor in your home, nothing's worse than smart devices that are an eyesore. You won't have to choose between style and convenience anymore, thanks to a growing trend of gadgets that fit with your home's style. As the smart home industry matures, aesthetic is starting to catch up with function.
Vivint Smart Home has been on the cutting edge of this trend, with devices that blend into the home, including the minimalistic Element Thermostat and slim-profile Vivint Doorbell Camera that actually looks like a doorbell.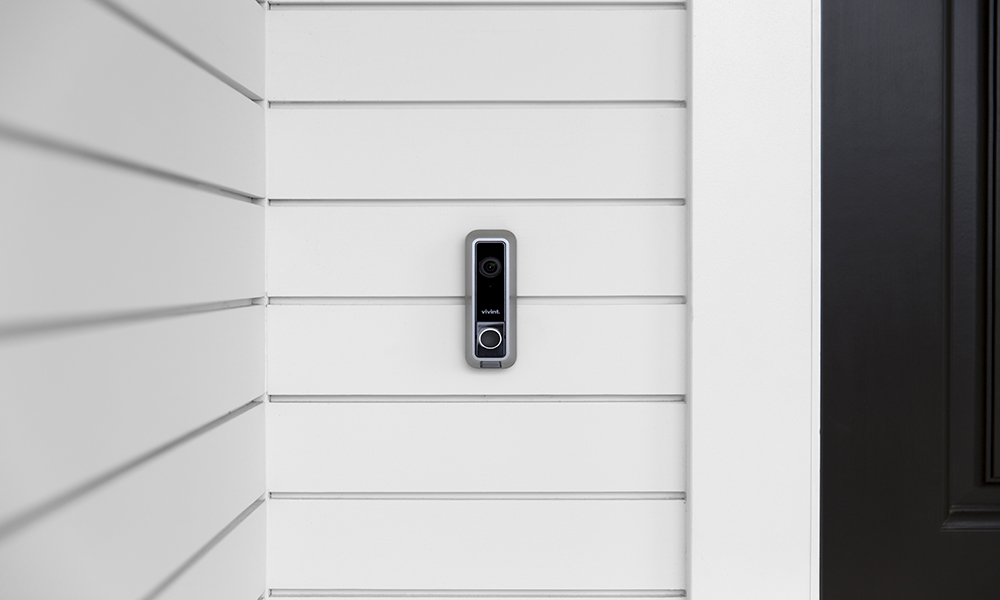 What's more, with the Vivint Smart Hub and Vivint Smart Home app, you can control your devices from your phone or a central location, eliminating the clutter of multiple remotes. After all, a smart home should help you get more out of your home, not take up more space in your home.
Upgrade your home today
Each year, companies become more and more innovative as they create smarter devices and technology—and 2019 is no exception. We can't wait to see what else this year brings to the smart home space. And we have some innovations coming out later this year that we can't wait to share with you. Stay tuned!
If you're ready to get ahead of the trends with an integrated smart home system, contact one of our Smart Home Pros at 800.646.1469 for a free quote today.