Millennial mindset and the homeownership experience
Millennials. They're everywhere. Literally. Preceded by baby boomers and Generation X, the millennial generation, born approximately between 1980 and 1995, comprise a quarter of the world's population. That's 1.7 billion people worldwide and 90 million1 in the U.S. alone2. They are the largest generation in history.
That's a lot of people who thrive on social connection, fully embrace technology, are highly educated, and tend to do things their way. They have the potential to largely impact all facets of our society. And in many cases they already are changing the way businesses are run, money is spent, people interact—and technology plays a large role in all of this3.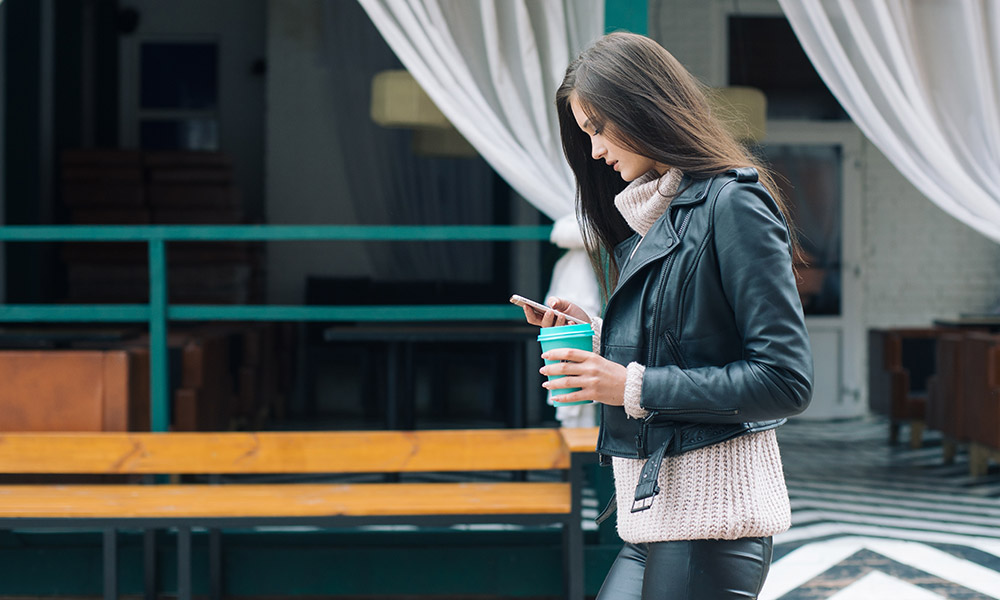 The millennials-and-technology connection
Conceivably millennials are the first generation to have been raised on technology. It's always been part of their lives, so it only makes sense that it continues to factor in heavily and influence how they work, interact with others, travel, shop, conduct business, and live and function in and around their homes1.
Approaching life from a unified framework
Millennials don't compartmentalize their lives. There's no separation of attitudes toward home, work, health, or family, for example. They tend to approach everything they do—in both their physical and digital lives—from the same framework and mindset. They are a "social, community-driven generation that values the voice of the individual."1
Seeking a balanced life through technology
Millennials are seeking a more balanced life with this holistic approach, which translates into a need to be in the know. They want information about companies and how they operate and what they produce.
Always with an eye on the community, millennials want and expect products to do more for themselves and their environment. They are multitaskers that thrive in a "fast-paced world" and want convenience, the ability to stay connected, and the option to be in control.
And this affects how they approach purchasing a home and how it functions in their lives. Take a look at Millennial home-buying trends1.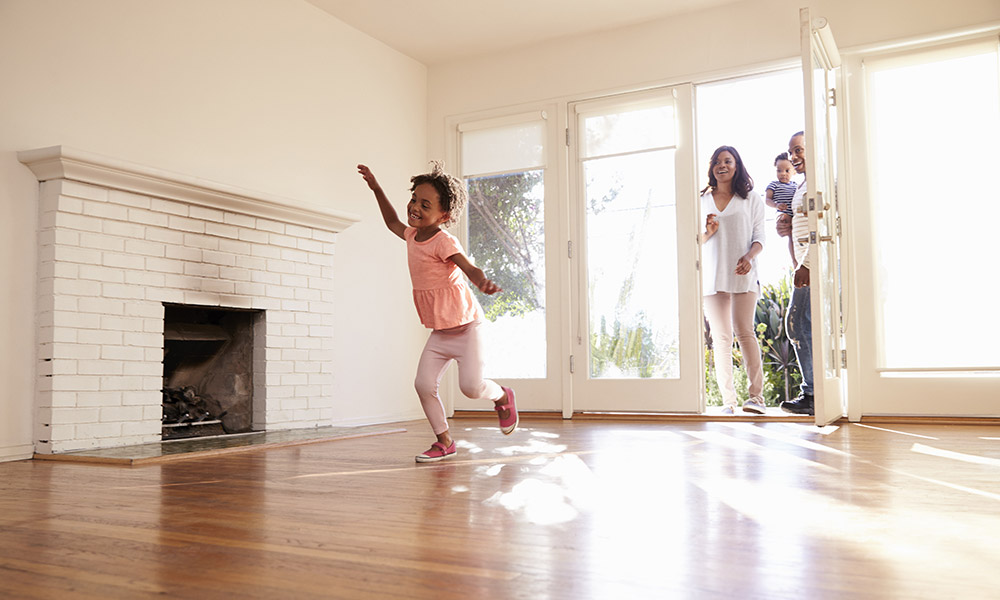 Millennial home-buying trends
Historically millennials have put off buying a home—63.6% of Americans own homes, while only 37% of Millennials are homeowners4.
Of course, younger millennials may be finishing up school and are not in a position to think about purchasing a home. For those millennials who could potentially own a home and don't, what's preventing them?
Millennial homeownership challenges5
7 in 10 think getting a mortgage will be difficult; nearly 1 in 10 have given up completely.
Up to 70% believe that based on their current economic circumstances getting loan approval will be problematic; 9% have already been rejected.
1 in 5 point to debt, including the burden of high student loans, as the factor blocking them from buying a home.
52% believe their finances are ultimately preventing them from buying a home.
Even though many millennials are putting off buying a home, they are the largest group of home buyers for the past four years.
Millennials are starting to buy homes
Despite those delays, millennials have comprised the largest group of home buyers for the last four years. Yes, they're putting off buying a home for various reasons, but they are contenders and are far from absent in the real estate market6.
The majority of millennials who currently do not own homes have expressed a desire to purchase. And studies indicate that within the next 10 years the number of millennial homeowners will increase by 2.7 million2.
So what does millennial home ownership look like?
Millennials want a smart home
The smart home just makes sense for millennials. They live to stay connected, and a smart home is right up their alley.
With their tech-savvy and willingness to pay for innovation; their need for convenience and staying connected; and the flexibility they seek in home ownership, it's hard to imagine millennials that don't incorporate smart features and devices into their homes once they take the plunge into home ownership.
How technology influences millennial purchasing behaviors
Take a look and how their need for technology affects how they live, work, and purchase:
38% of millennials plan to cancel a service in favor of an online service compared to just 15% of baby boomers who plan to do the same.
31% of millennials pay for online programming compared to 15% of baby boomers.
18% of millennials have used an online supermarket compared to 4% of baby boomers.
30% of millennials have ordered online for home delivery compared to 17% of baby boomers.
81% of millennials enjoy the freedom of being connected anywhere, anytime to watch video content.
Despite their lesser spending power, millennials are 81% more willing to pay a premium for innovative, new products.
58% of millennials compared to 24% of baby boomers engage in social media while watching video programming.
66% of millennials compared to 41% of baby boomers browse the Internet while watching video programming1.
Stay connected to home from anywhere
Millennials are willing to pay for innovation, and it's something they want. With a smart home, they get the control they seek in their lives and the flexibility they like without feeling tied down to a home to manage.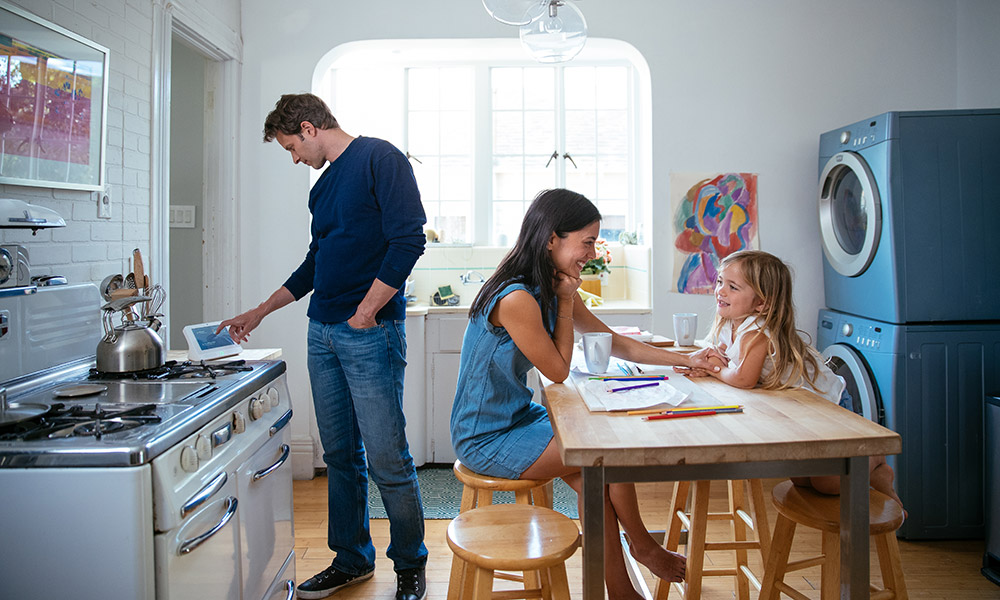 They can manage key functions of their smart home from anywhere in the world using an app on their smartphone. For example:
locking and unlocking doors
checking security camera footage
responding to alarms and notifications
seeing and speaking to whoever's at the door.
Getting more value out of the home while being away from it
Given the millennial's penchant for living on a budget and trying to save, renting out their home to pad the bank account while they're exploring the world and possibly working remotely is easier than ever with a smart home.
They can easily speak with renters from the doorbell camera or indoor camera to address concerns, provide tenants custom access codes to the smart lock for home entry rather than deal with keys, and receive notifications and alerts on their smartphones should any emergency situations arise.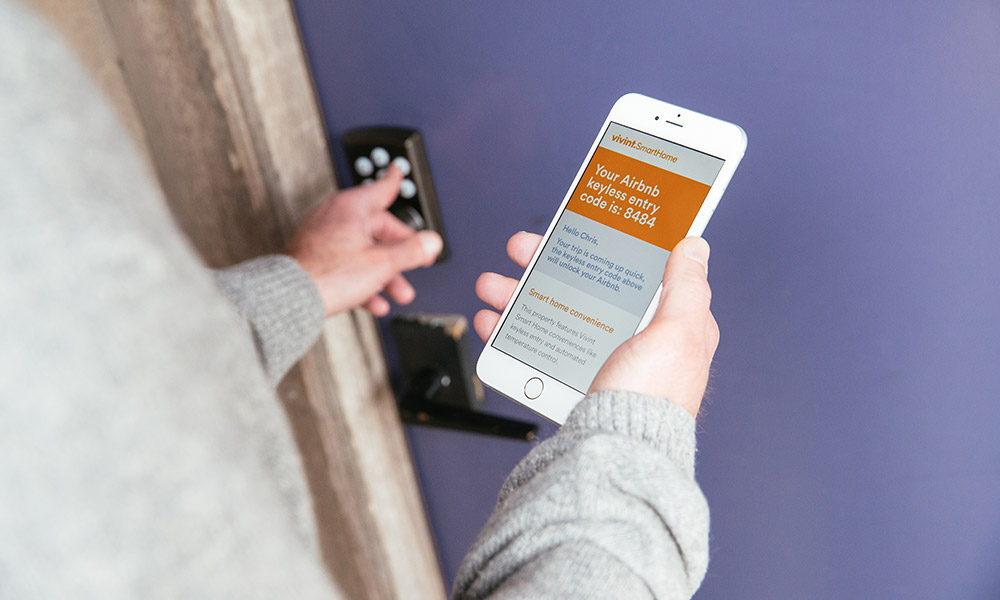 With a Vivint Smart Home system, millennials have the added security of the company's awarding-winning customer monitoring and support. That means someone is always there to "hear" and respond to an alarm and contact first responders. A smart home makes being away from home easy and doable.
They want to be married first or have their relationships solidified
With low-unemployment rates, high student loan debt, and lower incomes in general, marriage and family aren't happening on the same timeline as in previous generations7.
Millennials worry about housing costs and the weight of student loan debt and are looking to advance their careers first. Also important to note: Single homeowners are far less common than married homeowners for financial reasons8.
Millennials want to buy a home. They're just delaying things. And purchasing a home once they have a partner makes things more affordable. So they're getting married and having children later in life and taking more time to get to know their partner before they get hitched.
On average couples ages 25 to 34 are taking six and a half years to solidify a relationship before marrying. And the age at which individuals are getting married has risen—to 29.5 from 23 for men and to 27.4 from 20.8 for women since 19708.
Although millennials are taking their time when it comes to starting families, the majority want to. Of those Millennials between 18 and 29 who currently are not married and don't have children, 70% want to marry, and 74% want to have children7.
Technology in the home is especially appealing to millennial parents
For those who married with children, the entrepreneurial attitude of millennials carries over into family life and parenting where a team-first attitude prevails.
Most millennial parents like to involve their kids in bigger family decisions. Technology plays a role in millennial family life, which young parents document on social media. In fact, 71% of Millennial parents cite the Internet as their main parenting influencer, including online forums, social networks, and parenting blogs and websites7.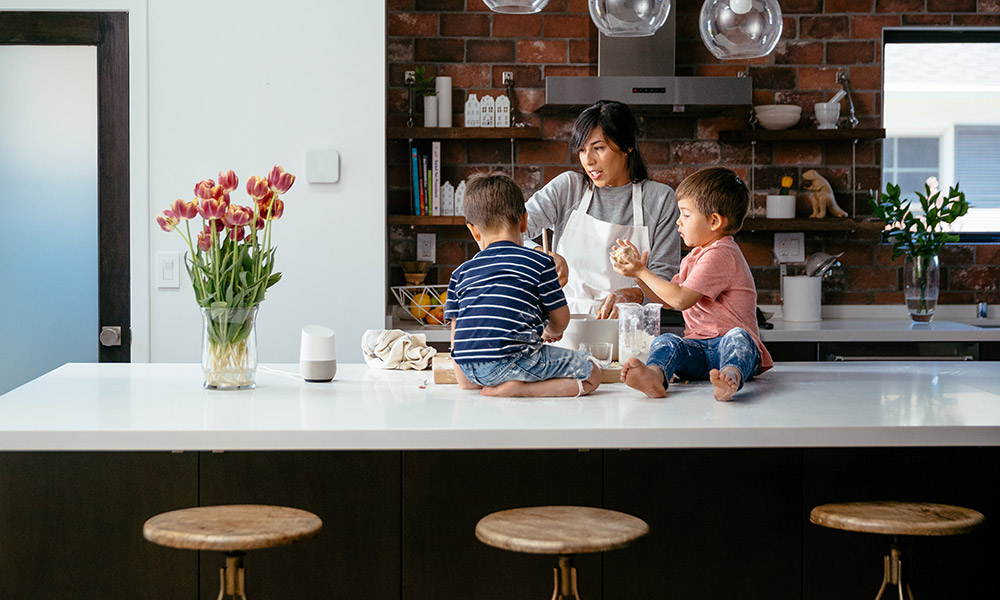 A smart home is, well, a dream come true for young millennial families and first-time Millennial parents.
For a generation that was raised on technology, having smart home devices in place to help them live more and enjoy their family and spend less time managing is a must. Parenting is busy, and a smart home is almost like having an extra set of hands.
Indoor cameras allow parents to easily monitor little ones from different parts of the house.
With video recording features—whether it's rolling over for the first time, that first step, or dumping out baby powder all over the nursery—parents won't miss a thing.
A nursing mother doesn't have to stop what she's doing and get up to answer the door. A doorbell camera allows her to see and speak with visitors from her smartphone.
With an integrated voice-activated speaker, young parents can walk into the house with arms full of kids and grocery bags and turn on the lights and lock the door behind them with a simple voice command. "Hey Google, lock the front door."
They're buying starter homes
Millennial purchasing trends reflect the fact that, contrary to popular belief, millennials do want to own a home. And when they can and the time is right, they are buying starter homes. But they want to own for different reasons than previous generations.
Rather than viewing home ownership as a form of status or a long-term investment, Millennials see owning a home as a rite of passage. It's not necessarily the home itself but the freedom and stability that comes along with it5.
And since they're not viewing it as a long-term investment, they want more flexibility with homeownership. They're not expecting to stay at one job or company forever. And the same with a house—they're not expecting to buy one home to live in for the rest of their lives.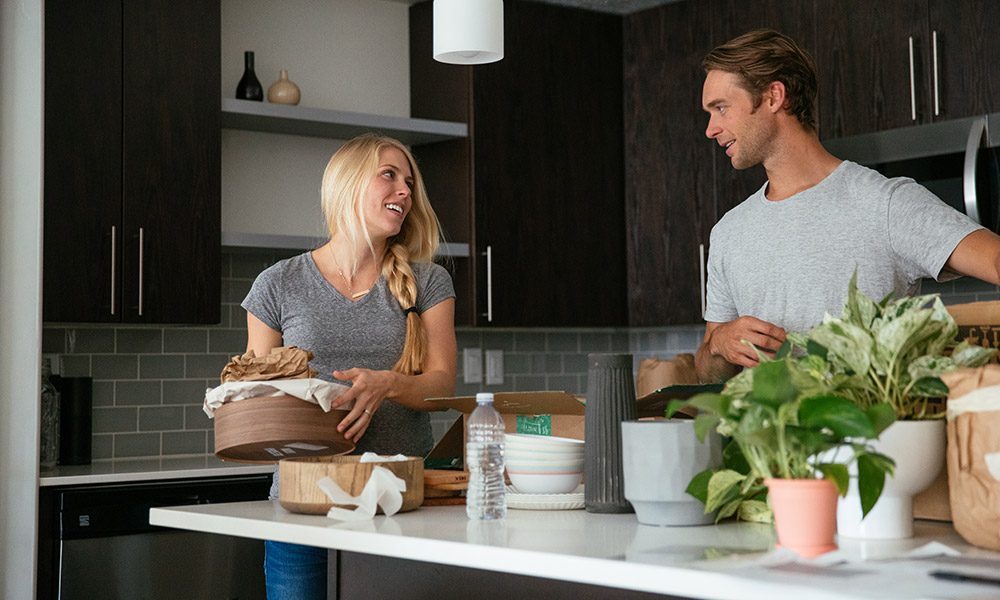 Basically many millennials expect to live in a house for about 10 years before moving on. And if the right career opportunity comes along, they're much more willing to pick up and move than previous generations9.
Millennials want affordability and convenience. They're willing to cut corners and sacrifice to get into that first home. And knowing that the first home is not forever, they're more willing and likely to buy smaller, older homes than boomers or Gen Xers9.
It's still about location
But like previous generations, location does matter. Millennials lead active lifestyles and want convenience concerning schools and work, for example. In this way, their preference mirrors that of their predecessors in that location was and is important. But convenience, not just a nice area, is a huge factor5.
Protecting the home investment
First-time millennial home buyers are making a huge leap. Coming up with that down payment isn't easy, and even a small starter home is a big investment. The thoughtful, forward-thinking millennial wants to protect that investment5.
And what better way to safeguard your home than with smart technology? With a smart home system in place, millennials benefit from:
Smoke and carbon monoxide detectors that protect against fire and carbon monoxide.
Flood sensors that protect against potential water damage.
Door sensors and glass-break break sensors that notify homeowners of attempted forced entry.
Indoor and outdoor security cameras that allow millennials to monitor their homes, view video footage no matter where they are, and be alerted of suspicious activity.
24/7 monitoring is always there to assist in an emergency or crisis, keeping the home and the people in it safe and protected.
Millennials don't expect stability to be handed to them
On the older end, millennials experienced and witnessed 9/11, the dot-com bubble, and a changing American work environment pointed to the fact that their generation more than likely would not be retiring on schedule and certainly wouldn't be working for one company their entire career like their great grandparents10.
Younger millennials saw the recession and market collapse from 2007 to 2009, the resulting high unemployment rates among younger workers, and the mounting cost of education and subsequent student loan debt10.
These experiences shaped their mindset, one in which they must take care of themselves in a world with a system that cannot support them. They have developed a mindset from which older generations are trying to break free10.
Because they don't expect the world, the system, or the government to provide job security or financial stability in an ever-changing environment, millennials seek to gain control over their personal and professionals lives in ways previous generations did not. It's why they think like entrepreneurs—even if they're working a corporate day job. They want:
A purpose, not just a paycheck.
Development, rather than plain old job satisfaction.
An open dialogue and ongoing conversations, not an annual review.
Coaches, not bosses.
To develop strengths, not improve upon weaknesses10.
As far as millennials are concerned, there is no safety net. There are no guarantees. Which is why they tend to save more than you might think. They have their own backs. "Lifestyle and freedom," the same factors that drive entrepreneurs, have been found to motivate millennials as well1.
Homeownership is on the radar
So don't write millennial homebuyers off just yet. Purchasing a home is on the horizon for many—but as with other aspects of their lives, this forward-thinking group is doing it their way on their timeline.
They're judicious in their home purchasing, investing in homes they can afford, that fit their lifestyle and independent sensibilities. And they're protecting—and enjoying—those homes with the convenience and control that smart home technology and automation bring.
---
Sources