Google Home works with the Nest Learning Thermostat and Nest Thermostat E to provide convenient temperature control in your home with the sound of your voice.
Connect Google Home with a Nest thermostat to adjust the temperature in your home with simple voice commands.
Get comfortable without having to get up
Imagine this: it's the middle of the summer, you're baking a birthday cake in your kitchen, and it's getting uncomfortably hot. With Google Home—or other Google Assistant enabled devices—you can just say, "Hey Google, make it cooler!" And voila. Your Nest thermostat will adjust to a cooler temperature without you having to leave the room to manually adjust it.
Google Assistant is a voice-controlled assistant that powers the actions Google Home can perform for you. Whenever you say "Hey, Google," Google Assistant comes to life, ready to listen and respond to your voice command.
Nest Thermostat voice commands
Nest thermostats can be controlled by a number of voice commands, each starting with the phrase, "Hey Google."
Learn the current temperature in the home.
"Hey Google, what's the temperature inside?"
"Hey Google, what's the temperature set to?"
Does it seem too hot or cold in your house? Just ask Google Assistant what the temperature is inside, and adjust it accordingly.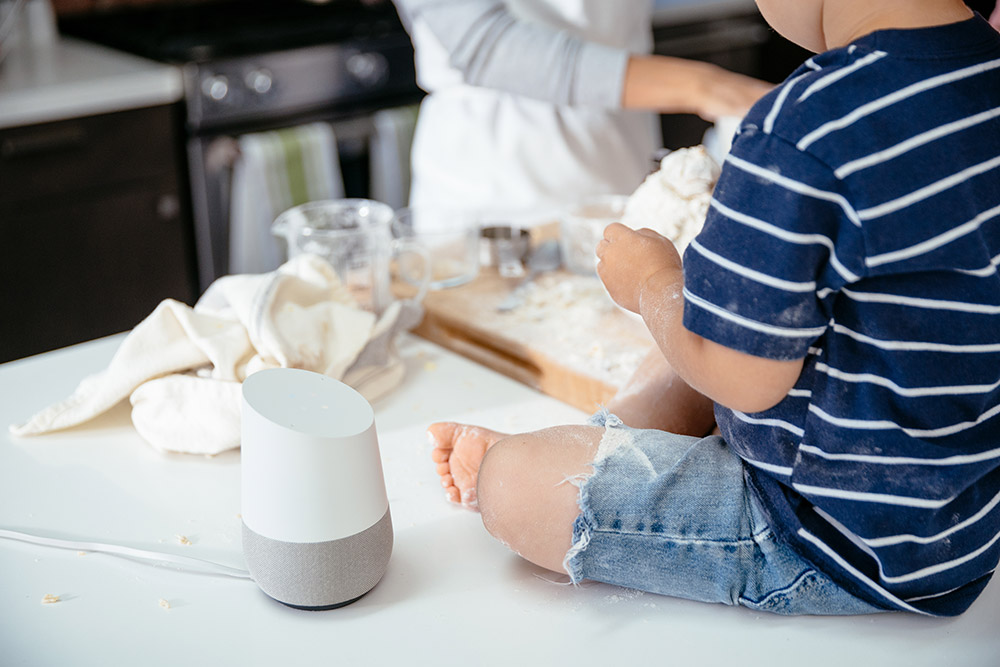 Make it warmer or cooler.
"Hey Google, make it cooler."
"Hey Google, make it warmer."
You don't have to keep track of the specific temperature to get comfortable. Simply tell Google Assistant to make it warmer or cooler.
Raise or lower the temperature.
"Hey Google, raise the temperature two degrees."
"Hey Google, lower the temperature three degrees."
If you know your temperature sweet spot, you can ask Google Assistant to adjust Nest by a certain number of degrees.
Set the exact temperature.
"Hey Google, set the temperature to 72 degrees."
You can ask Google Assistant to set your thermostat to specific temperatures.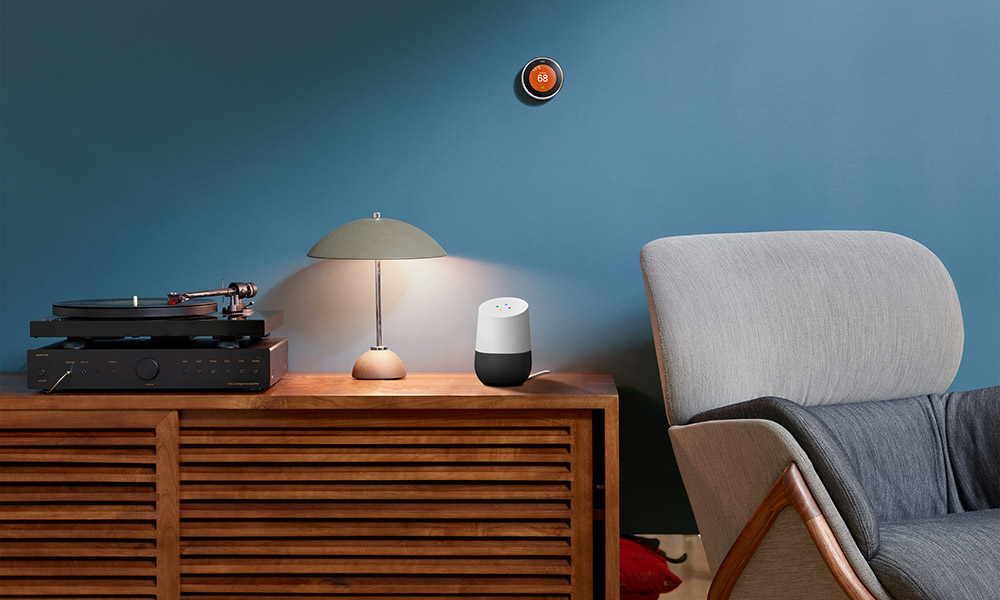 Adjust the temperature in a specific room.
"Hey Google, set the family room thermostat to 68 degrees."
If you have multiple thermostats in your home, you can use the thermostat's room name to control the specific temperature in that room.
Turn the thermostat off.
"Hey Google, turn off the thermostat."
When the days get cooler and you'd rather enjoy a nice breeze from your open windows, ask Google Assistant to turn off your Nest completely.
Make a Nest thermostat and Google Home part of a smart home
The ability to control the temperature and comfort level in your home is just the tip of the iceberg to the greater convenience and control you get when Google Home and Nest thermostat are included in a comprehensive smart home. This integration allows you to speak and your home listens.
Occupancy based changes
When integrated into a Vivint Smart Home system, a Nest thermostat gives you greater comfort and energy savings by adjusting the temperature based on your location and activity.
If you run out the door and forget to adjust your thermostat, your in-home sensors will sense no one is at home and adjust the temperature to conserve energy while you're away.
Protecting your home from fire
But the integration goes beyond energy management. In the event of a fire, the Vivint system limits the spread of flames by shutting off the thermostat and flow of air in your home's HVAC system. And our 24/7 professional home security monitoring specialists will contact you and send assistance if needed.
When you're away from home, you can still control your temperature—and all features of your smart home—using the Vivint Smart Home app.
Use Google Assistant to control other smart home devices
Google Assistant also works with Vivint to provide voice control of other parts of your smart home:
Arm your security system.
Lock the smart lock on your front door.
Turn smart lights on or off.
Voice control makes home automation more convenient and powerful than ever.
Discover how easy it is to turn your house into a smart home. Give us a call at 800.646.1469 for a free smart home consultation.