Designing Spaces on Lifetime and Vivint Smart Home teamed up to show how easy it is to get the secure, automated home of the future and all the convenience that comes along with it. Today.
The scenario: You're a single parent, and you live alone with your young child. A babysitter arrives in the mornings as you rush to get to work. In the scramble to get on your way, you find that you inadvertently leave the garage open occasionally. Or maybe you forget to lock doors as you leave, or give the sitter final instructions.
You're gone all day at work and find yourself worrying about the safety and security of your home and the people in it. What do you do?
Finding a home security solution
Single dad Aharon Bettan found himself in this situation after moving into his new home with 6-year-old daughter Eliza.
While pondering his security conundrum, he noticed several Vivint Smart Home signs in neighboring yards. So Aharon took a cue and gave Vivint a call. In return, he got a home visit and individualized consultation. Smart Home Pro Rick Evans made a house call to meet Aharon, assess his needs and set him up with a system.
Rick made sure Aharon got the security and peace of mind he wanted. And the ease and convenience of home automation were an added plus for a busy, single parent.
Get what you want
The good news? You don't have to be on television to get the personalized care and customer service Aharon received from Rick.
Our highly trained and qualified professionals, known as Smart Home Pros, work with you to help you accomplish what you want with your home security system. With this information they customize the right home security system for your needs.
For Aharon, that meant increased security—making sure doors were always locked and secure—the ability to stay in contact with his daughter and ensure her safety while he's away, and greater convenience and ease with his busy schedule.
Our Smart Home Pros can make it happen
Conferring with Aharon and taking a brief tour of his home gave Rick a clear picture of how Vivint could best help him accomplish his goals.
Rick knew a Vivint Ping Camera—an indoor camera—would allow Aharon to visually check in on things at home and make it possible for Eliza or the sitter to contact him with the one-touch callout feature Ping provides.
A doorbell camera, door sensors, and an outdoor camera all offered the Aharon the additional security he wanted.
A smart thermostat made temperature adjustments easy and cost-effective.
Now Aharon enjoys greater convenience along with increased security and comfort with the automation aspect of his home. He has complete control of his home's features from his smartphone or the control hub in the home. And many aspects of his home he can control with the sound of his voice using Google Assistant.
Get the white glove treatment
Vivint can do the same for you. What's even better? Just like Aharon, you get the white glove installation experience and individualized service throughout the entire process as Smart Home Pros professionally install your system.
As in Aharon's case, our Smart Home Pros know the ideal spots to place cameras or the smart hub control panel, for instance, to meet your needs. You don't have to worry about a thing—no guesswork, and no DIY headaches.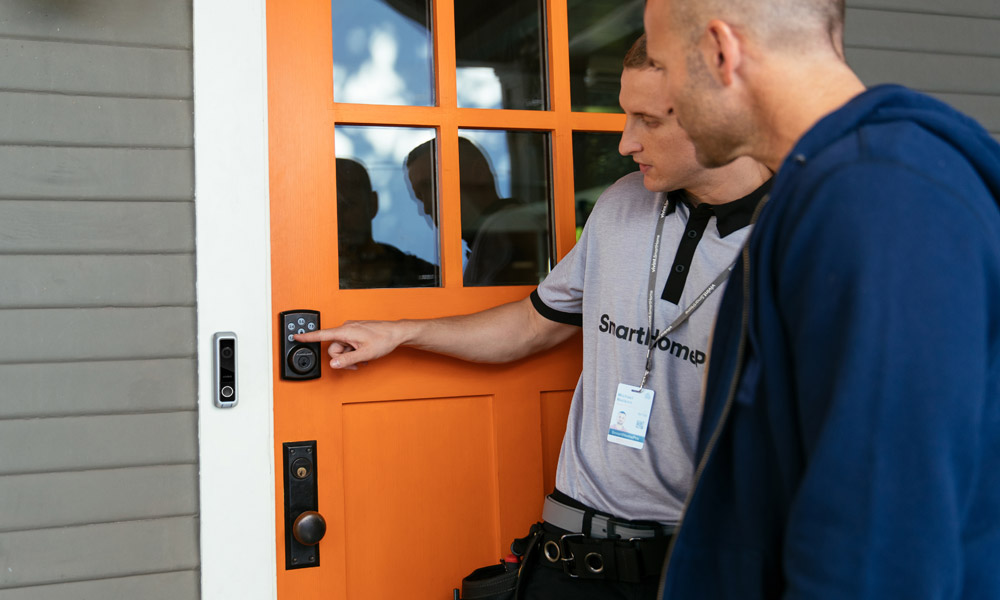 And just as Aharon experienced, once your system is installed, your Smart Home Pro will ensure all components integrate seamlessly and teach you how it works.
We don't stop at installation
But customer care and support don't end when your Smart Home Pro completes the installation process. As Rick explains to Aharon, with a Vivint security system, you're backed by award-winning 24/7 security monitoring and customer care whether you're home or away.
That means someone's always there to respond to an alarm and assist with an emergency if you can't. So you can leave the house for work, rest easy at night, or go on that much-needed vacation knowing your house is safe and secure.
A secure, smart home really is that easy
We have a feeling you're going to want to call Vivint when you see just how easy it is to get a smart, secure home and the ease, convenience, and peace of mind that go along with it.
Whether you're a working professional, single parent, two-parent household, or millennial in your starter home, Vivint has a solution for you.
Give us a call at 800.646.1469 for a free quote.